Simply show online presentations during your conference call.
Everyone who wants to present a subject to others, knows that sometimes pictures will offer more information then words. For this reason, we are offering all our customers the "online presentation" feature for free. Every customer is invited to use it.
1. presentation upload
To upload your presentation to talkyoo, use the button File Upload or drag your file on the blue area. Ensure that your presentation is not greater than 100 MB and does no more than 200 includes pages. Please upload only presentations that were created with the following programs:
Microsoft Word, file formats .doc and .docx
Microsoft PowerPoint, file formats .ppt and .pptx
You can export the .pdf file format from many programs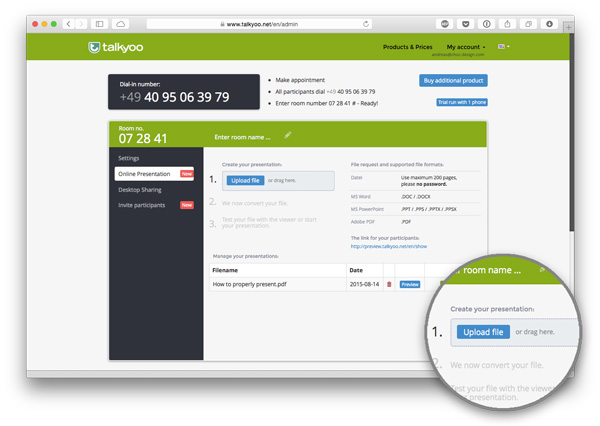 2. We Will Convert Your Presentation
After we received your files, we convert them within minutes. While your files are in the queue, the waiting position is shown.
If you have many and / or use large images in your presentation, convert takes longer. A comprehensive 30-page presentation in PDF format .pdf usually takes 6 to 8 minutes.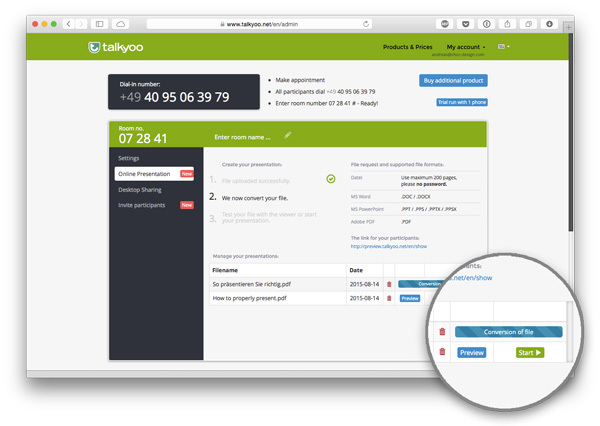 3. Check Presentation
After your presentation was converted successfully, you can check your slides in the preview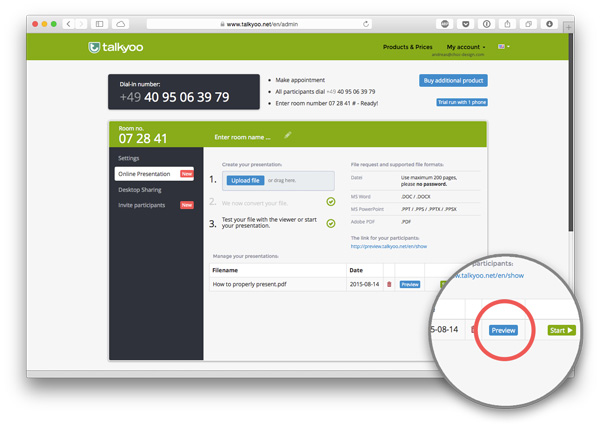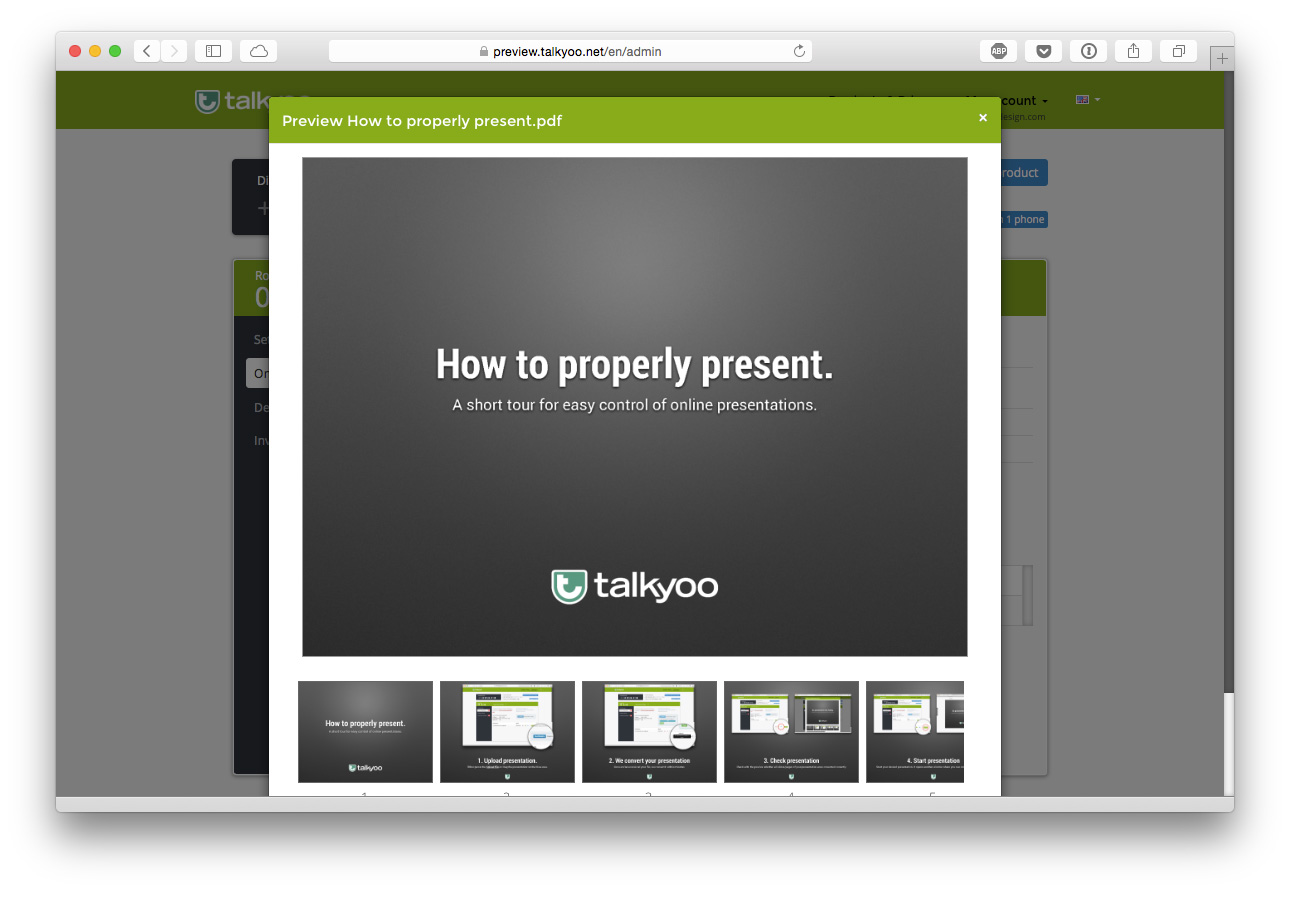 4. Start Presentation
https://www.talkyoo.net/en/show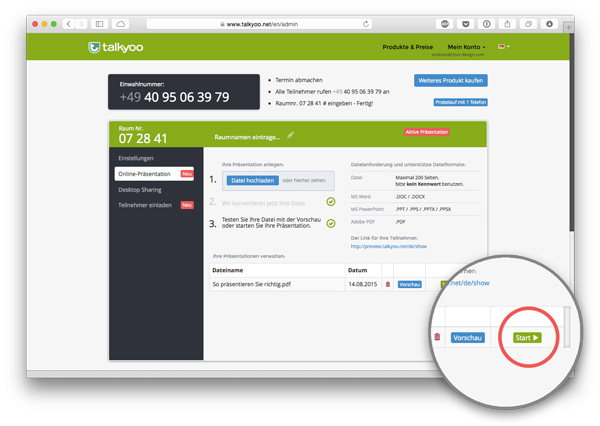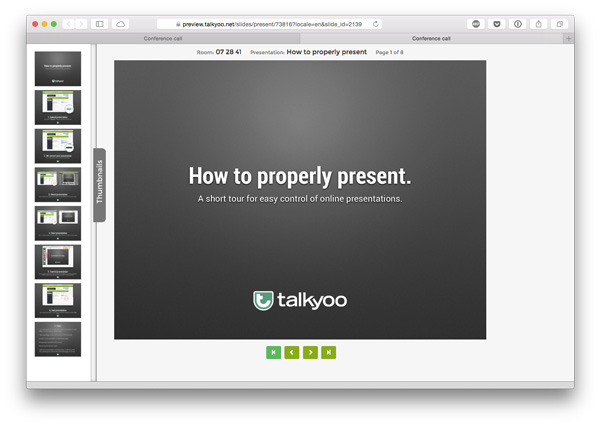 5. Control Presentation
On the left side of your presentation control you find all preview pictures. Use this area to select a specific slide and minimize after. Below your actual Slide you find the control elements for forward/back and first/last page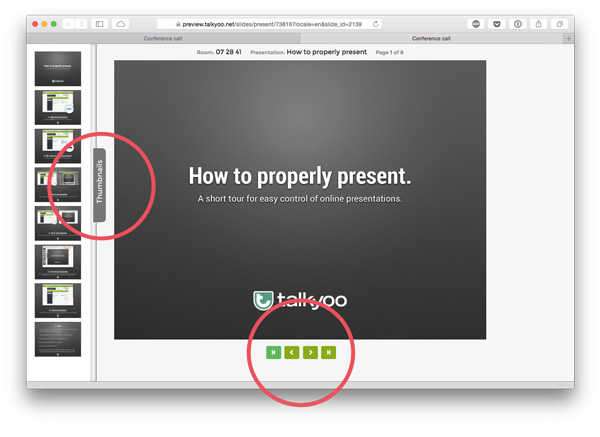 6. Close Presentation
Closing the browser window of the presentation does not finish your presentation. The slides are displayed until you click on the red quit presentation button. Than a generic welcome page is shown to your participants.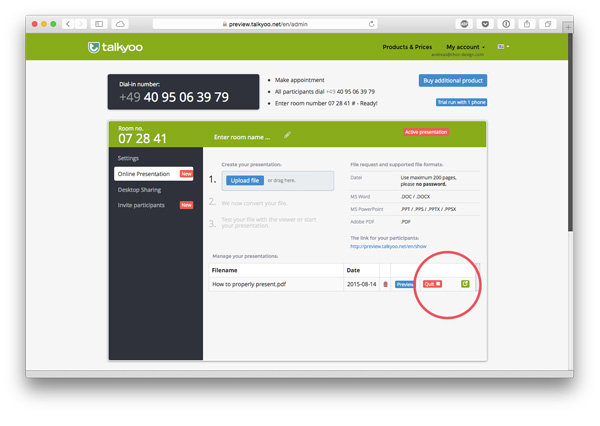 Tips for your online presentation
Your participants follow your presentation on https://www.talkyoo.net/en/show
Invite your participants via talkyoo, and the presentation link is inserted automatically.
Create a landscape presentation
Don't use tiny fonts
Less pictures results in quicker conversion time
Please do not upload password protected files
Start your presentation some time before your conference call. Than your participants see your first slide as salutation.
You want to present more interactive?
With the talkyoo web conferencing the contents of your screen will be broadcasted live to your participants. So you can show your PowerPoint presentation directly on your computer and highlight areas to focus on important information.

Let your participants see what you write on your computer, edit or open. The talkyoo Conferencing makes your next presentation secure experience (end-to-end encrypted with 256-bit AES).
More info about web conference